Its summer! Some of us are venturing off to rekindle with family and loved ones. Others of us are remembering when we did. And still others of us are nervous about family reunions and the coming together. And maybe some of us dont even go any more….
Okay….so I've been all the above…and on a recent return to a little neck of the woods I haven't been to because it felt really hard for a lotta reasons, I found myself having a healing…of missing my grandparents…and I wrote a poem about it….and there's so much still left to share….but here's a bitta glimpse of my now aware…Thank you for bein here:) Tre xo
~~~~~~~~~~~~~~~~~~~~~~~~~~~~~~~
On a walk, thoughts went a wanderin'
to that space of ache and longin'
a few smiles of memory, but more a haunting
for that I cant hug and hold them close, felt truly daunting…
~~~~~~~~~~~~~~~~~~~~~~~~~~~~~~~
Awake and aware I hadn't healed the missing,
tossed all dark up into the thought attic years ago
only temporarily hushed its hissing…
the missing….of….my Pop Pop & Gigi…
(funny how those memory trunks open themselves up
& dump out their keepsakes, warnings without – –
upon returning to places we've not visited since the way things ended up….
~~~~~~~~~~~~~~~~~~~~~~~~~
So feeling the downward pulls and pain
I'd resolved to feel whole again….
and so I tried to defend, Loves now embrace…
betwixt the emotions yo yo
a bush of flora invited my focus, helped me still thoughts slow…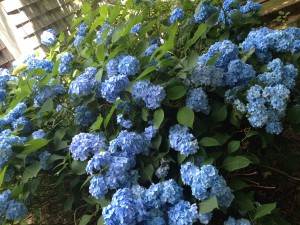 I gazed upon the flowering blooms
awed of their varied blue hues
~~~~~~~~~~~~~~~~~~~~~~~~~~~~~~~~~~~
Just then, a voice beckoned from the garden:
'Take some with you, now, today, darlin!'
Glancing left, looking further I see
the sweet woman responsible for the blooms in front of me!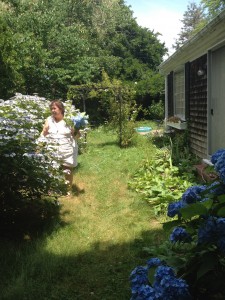 She began clipping here and there and bid me "come here"
excited to show me her plantings back there…
~~~~~~~~~~~~~~~~~~~~~~
and in those moments of now
through the comfort
of her words I felt hugged and familied…oh, how….
Thought haulted! refused responding
to those
pulls of downward…..
~~~~~~~~~~~~~~~~~~~~
"Here we'll get you summa these white and those blue some more….
and how bout a little bitta purple too you'll prolly adore!"
She'd met me not,
we didn't share names.
an onlooker
a gardener
appreciating beauty all the same.
And
with that
she gathered a bunch
to her they were flowers…
to me a reminder of Love's constant & now hugs.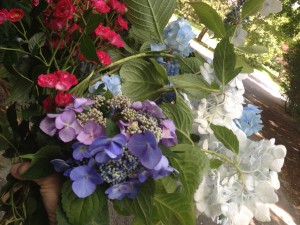 As she handed the bounty to me
staring at each petal
I hear within
"Allow her this gentle giving, Tre"
I said 'Oh. my. Ohhh. okay."
As if in not allowing?
I may have stood in Love's way…
~~~~~~~~~~~~~~~~~~~~~~~~~~~~~~~~~
And once again I'm reminded the more we strive
to expect and exude love now, shall we thrive
If only we allow ourselves to see
there's not ever just one experience of love-whee.
of COURSE we've had past moments of glee
but those aren't the only we're allowed to see…
Pondering such, pulled thought back to now
the ache of missing them lessened
and I heard again "luvbug? good abounds here too, looky at this wow.
~~~~~~~~~~~~~~~~~~~~~~~~~~~~~~~~~~~~
Sometimes the pull to dwell on what happened when
gets us to consent, and we linger there, in that then…
but good and love are not staccato events…
that were wripped away or whatever blares the circumstance…
the pulls will say 'good happened only back then
or it was better or more real 
and you lost it yet again'…
Being alert to this tactic of theirs
will allow us to not be duped unawares
Rather do I choose to fill my thought up with now Love
and in this am I seeing and feeling the songs of these moment's morning dove.
What about you?
How are you seeing the now ~ Love that is embracing and hugging your being?
~ ~ ~ ~ ~ ~ ~ ~ ~ ~ ~ ~ ~ ~ ~ ~ ~ ~ ~ ~ ~ ~ ~ ~ ~ ~ ~ ~ ~ ~ ~ ~ ~ ~ ~ ~ ~ ~ ~ ~